The Tuolumne River is considered by many to be the best in the California whitewater rafting trip, and promises class three and four, action-packed paddling from put-in to take-out. The raging, wild & scenic Tuolumne River flows through the remote wilderness where twigging creeks, waterfalls and crystal clear pools decorate the river corridor and its side canyon. The river and the canyons are perfect for hiking, fishing and swimming.
A visit to Yosemite National Park is a natural addition to a Tuolumne River rafting trip. The beating heart of the Park is its spectacular glacier-carved Yosemite Valley, surrounded by the dramatic mountains and filled with lovely meadows, redwoods, aspen groves and jaw-dropping waterfalls. Visitors can hike, picnic and camp in the looming presence of Half Dome and El Capitan, two of the Park's most well known rock stones.
Image Credits:aorafting
Yosemite National Park & Tuolumne River Hiker: Itinerary at a Glance
The journey starts with a meeting at La Casa Loma River Store and transfers to the class four Tuolumne River. The first stretch of the whitewater brings three of the Tuolumne's most treacherous and notorious rapids: Rock Garden, Nemesis and Rams Head. After making through the dangerous whitewater's adventurers then stop at about mid-afternoon to make camp, hike and relax. Day two brings more exciting whitewater's as adventurers continue down the Wild & Scenic Tuolumne River. The remainder of the evenings is spent in the comfort of rustic lodges outside the park and in cozy canvas tents in the heart of Yosemite Valley. You can explore the valley floor and take in the views or simply stroll among giant sequoia groves with expert local naturalists.
Image Credits:visitingdc
Getting There:
Fresno Yosemite International Airport is located at a distance of 90 miles from the Yosemite National Park's South Entrance at Wawona and is the nearest major airport. Yosemite is a three and a half hour drive from San Francisco and a six hour drive from Los Angeles. Daily bus transportation into the park from Merced, Mariposa, and other nearby communities is provided by the Yosemite Area Regional Transportation System.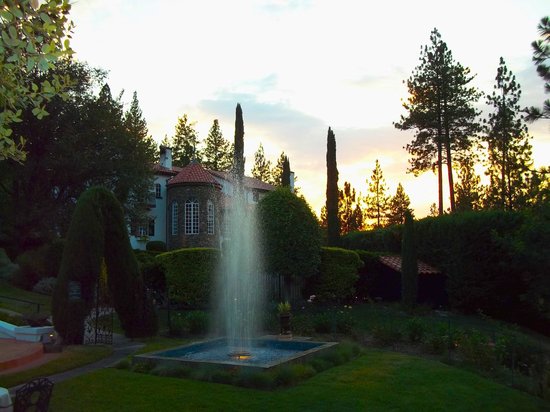 This photo of Chateau du Sureau is courtesy of TripAdvisor
Accommodation:
Chateau du Sureau & Spa, The Ahwahnee, Yosemite Rose, Wawona Hotel and Tenaya Lodge are some of the popular staying areas among the visitors.
Feature Image Credits:adventurecollection