Hong Kong is a busy city of China and one of the top best tourist places in Hong Kong. Every year lots of tourists make their tours to Hong Kong. The city perfect for tourism as there are a number of spots and through this article you will know about them.
10. Ngong Ping 360, Lantau Island
Image Credits:discoverhongkong
This would be the most thrilling and beautiful experience for you to pass over the most beautiful tourist areas of Lantau Island hanging on a cable car. From there you can see the Hong Kong Airport. This is the world largest cable car and this will make you reach at the highest peak of the Lantau Island Mountain. Its thrilling experience attracts tourists to make tours here.
9. Hong Kong Museum of History, Kowloon
Image Credits:globaltravelmate
Hong Kong Museum of History occupies 7000 square meters space. It symbolizes 400 years history of different aspects. The authority did good efforts to collect and process then exhibit the huge numbers of objects relating the archaeology, history, ethnography and natural histories of Honk Kong and South China. There are also arrangements of different thematic exhibitions.
8. Nan Lian Garden, Hong Kong
Image Credits:discoverhongkong
If you want to visit the Nan Lian Garden then you have to go to the Diamond Hill MTR station. The garden is located just east of the station. The garden is often considered as the most beautiful spot in Hong Kong and attracts tourists the most. The Nan Lian Garden is a gem of the busy Hong Kong city. You can visit this place for 1-2 hours.
7. Temple Street Night Market, Kowloon
Image Credits:discoverhongkong
The Temple Street Market gets dazzled and a festive look with the sun down. This popular street bazaar is named on the temple Tin Hau. Lots of accessories are available here like trinkets, tea ware, watches, jade and antiques, men's wear, sea foods, noodles and other treats etc. This market looks like the Chinese festive markets at night.
6. Ladies' Market, Kowloon
Image Credits:discoverhongkong
The market is a perfect place for women to have their accessories like cosmetics, bags, home furnishings, CDs and trinkets and watches etc. But the place is so crowded that you might not be getting there to just a scarf or a comb. This place is full of colorful wearing for all ages and lots of shoppers are waiting there to bargain with you to sell their clothing.
5. Hong Kong Disneyland, Hong Kong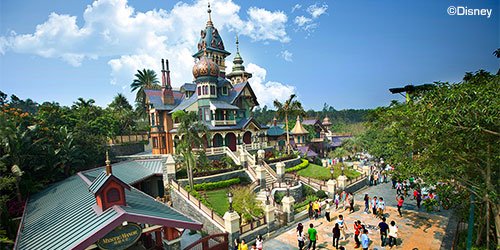 Image Credits:discoverhongkong
Hong Kong Disneyland is the important place for Hong Kong tourism because of its varieties of sectors to enjoy. There are Fantasy land, Tomorrowland, Adventured, Main Street USA, the show and Disney Lion King 3D and many more children's games. You can go anywhere and enjoy with your family and children. There are facilities to take picture with some famous cartoon characters.
4. Ocean Park
Image Credits:discoverhongkong
The Ocean Park is one of the best tourist spots and occupies the seventh rank in the world with 1.38 million visitors. So this theme park is very popular. Here you will get the 2nd longest cable car in the world to make your tour over the entire park area. There are 14 categories of games and many more attractive things like the aquarium which contains about 2000 species of fish, jellyfish, sharks, and panda pins.
3. The Peak, Mid levels, Hong Kong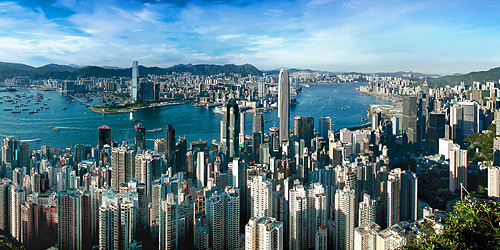 Image Credits:discoverhongkong
You can see the most spectacular city views from the pick which will make you willing to have a tour to the Pick. This is the highest point of the city. The cooled air attracted the rich and famous back. This is a anvil- shaped tower and it has a large viewing platform named Sky Terrace 428.You will get The Pick Galleria with free entry and shopping and dining facilities there.
2. Avenue of Stars, Hong Kong
Image Credits:discoverhongkong
The Avenue of Stars was designed so that it may identify the film industry's role to promote the Hong Kong worldwide. This report is based on the Hong Kong Tourism Board. This avenue often advertised as "Hollywood of Orient" but its fame spread a little more than Hollywood's popular Walk of Fame. There tourists will famous Hong Kong actors and actresses.
1. The Skyline, Hong Kong
Image Credits:discoverhongkong
Hong Kong has an incredible two dimensional skyline view and in these days this view has become the one of the most popular reason that attracts tourists to Hong Kong. This skyline view has a rival and it is the Manhattan Skyline. You can go to the Avenue Stars or TST Promenade to enjoy the Hong Kong Island skyline over the Victoria Harbour directly.
Feature Image Ccredits:eadership.uoregon