Top 10 hotels in New York
One of the most dynamic in the world, is the New York hotel scene, and it seems like anywhere you choose to stay you are going to trip over a celebrity. Of course, you should research before booking into a hotel in the City That Never Sleeps. You are in the right place and you should look no further than this article. Here is a list of the top 10 hotels in New York:
10:New York Palace - 455 Madison Avenue

This photo of The New York Palace Hotel is courtesy of TripAdvisor
This hotel is located just off Madison Avenue, in the well known Villard Mansion and this property has jaw dropping views over St. Patrick's Cathedral. Because this hotel's tower wing is the higher in Manhattan, if you are a tourist there, you can't stop taking photos across the city's skyline. As the hotel boasts a two Michelin starred fine restaurant, eating in for a special occasion is a good option. It's not a cheap hotel, but if you want to relax, you should break the bank for a one time retreat over there.
 9:The Carlton Hotel- 88 Madison Avenue

This photo of Carlton Hotel, Autograph Collection is courtesy of TripAdvisor
This midtown's large hotel lobby has a really regally classical feel. It primary a business hotel but this shouldn't put off leisure travelers because it has more character than some of its competitors. It has traditionally furnished rooms and its size means that the amenities cupboard is well stocked with everything from work rooms to business center, with free wireless internet connections. The big lobby is one of those places in which you don't mind waiting around because of the crystal chandeliers that are a perfect backdrop for drinking a Sunday coffee while reading the papers or drinking a classic New York cocktail at the Millesime bar.
 8:The Peninsula New York - 700 Fifth Avenue at 55th Street

This photo of The Peninsula New York is courtesy of TripAdvisor
This grand hotel, which lies in plum spot on Fifth Avenue, has an upscale oriental theme. The traditional building, that was built in 1905, is a quite fabulous good art and it is modeled on its sister property in Hong Kong. According to the literature, and it's very hard to disagree, the bedrooms have the "most confortable beds you will ever sleep in". Among the highlights that you can explore is the Fives Restaurant, which is famed for it's Champagne .
 7:The Cassa Hotel - 70, W 45th Street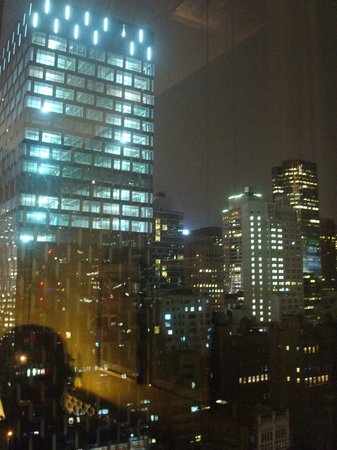 This photo of Cassa Hotel New York is courtesy of TripAdvisor
This 165 room hotel is a chic new addition to the buttoned down Midtown neighbourhood. The rooms enjoy luxury touches such as MP3 docking stations,Frette linens and 42 inch TV's, but the ethos nose towards simplicity. Except for normal food, the restaurant also serves organic food and you can spend your free time relaxing in the charming back garden.
 6:Chatwal - 130 W. 44th Street

This photo of The Chatwal, A Luxury Collection Hotel, New York is courtesy of TripAdvisor
The building houses a clubhouse in the early 20th century style that has been beautifully restored. The rooms are playful, with wardrobes that look just like old travelling trunks and that is one of the most original looks you could see in a hotel room. You will find all the technology you would expect from a modern hotel and the small in-room library has a wide selection of reads.
 5:The Mave - 62 Madison Avenue

This photo of The MAve is courtesy of TripAdvisor
The text based shenanigans are intended to be a condensing of Madison Avenue, however that is about as pestering as this hotel gets. It's tricky to blame its Flatiron District area, and aficionados of the East Village or Chelsea will be in pigs paradise. Charging itself as 'diverse urban', this new property without a doubt has a youthful environment to it, all hardwood floors and in vogue shower items. The rooms are decked out in brilliant essential colors, with unblemished white cots to keep things only short of tangible over-burden. Advanced craft on the dividers makes for a suitably changing setting. Breakfast doesn't extend past cafe and croissants, yet for Manhattan, the costs here are a take and the neighbourhood feel means you're in for a true NYC experience.
 4:The Lowell - 28 E. 63rd Street

This photo of Lowell Hotel is courtesy of TripAdvisor
A piece from Central Park, the unassuming door to this high-class hideaway heads into an inconspicuously shadowy anteroom, where uniformed staff unpretentiously lead you into the lap of extravagance. Invites are offered in quieted tones, and there's a whiff of selectiveness buzzing around. The rooms are extensive, flat like undertakings with period obsolescents that make them feel Parisian or at any rate mainland. Cushy sitting amenities and tasteful Italian marble bathrooms supplement the living quarters. On your approach to chow down, stop by the lounge for a talk with appealing Irishman and head barkeep Patrick as he whips you up a bespoke cocktail.
 3:Hotel Chelsea - 222 W. 23rd Street

This photo of Chelsea Hotel is courtesy of TripAdvisor
Most likely a standout amongst the most acclaimed hotels on the planet, this famous building still pulls in a faithful emulating of bohemians, music geeks and fanatics of shabby chic. Its charm originates from the move call of past visitors, just about a who of counter-society. Weave Dylan, Charles Bukowski and Sid Vicious are all previous inhabitants. There is still an overabundance of long-tern inhabitants, even as originators move into carry the spot, kicking and shouting, into the 21st century.  While there may not be the finest cleansers or flattest TV screens, the spot is still full of character, and fine for the cost in the event that you value stories over pampering.
 2:The Cosmopolitan Hotel - Chambers Street

This photo of Cosmopolitan Hotel - Tribeca is courtesy of TripAdvisor
With only 150 rooms, it feels sort of like a vast scale bed and breakfast rather than a hotel, however assuming that you're searching for some place pleasantly functional, then this is the spot. The rooms have a hint of top of the range Ikea to them, however are enormously confortable and for the value, you're upbeat to have a private washroom in NYC. They all have free Wi-fi, cable TV and clean, agreeable bunks, and that's all you require truly.
 1:W Times Square - 1567 Broadway

This photo of W New York - Times Square is courtesy of TripAdvisor
For a hotel brand with such a hip notoriety, this is slightly a geeky place to be hanging out, overlooking the tourist traps of Times Square. The doorway is fun in itself – the waterfall in a glass box that runs from the anteroom, and board games suspended in Perspex. The rich decorations and peculiar courtesies of the W mark are all present and right, with the customary attention on the famously testable "whatever at whatever point' administration reasoning. Some of NYC's most touristy attractions are right outside, yet don't stress, at the W you can wear your "I Love NY" shirt, sheltered in the knowledge that everybody will suppose you're
being ironic.
Feature Image Credits:montenido