Top 10 Best Tourism Places in Spain
Spain is a European country. It might not be oriented with any large beach or any high mountains but how many world heritage sites are there in Spain that it needs not any other extras. Here are given a short description of 10 best tourism places of Spain.
10) Day Sailing Yacht Charters Tarragona,Spain
Image Credits:spanishsailing
Tarragona may be the best place to experience sailing. You can have a course to learn sailing here inside or outside Tarragona. You can hire a boat with or without a guide on your boat. You need to find a perfect environment to enjoy the sailing with your family. Here Tarragona will offer you sailing beside the rural coastline. You can celebrate your party or birthday floating here.
9) Cathedral of Santiago de Compostela,Spain

This photo of Cathedral of Santiago de Compostela is courtesy of TripAdvisor
This is a holy place for Catholic and Christianity. It was built over grave of St. James after his death in 819 AD. It was destroyed after years later but the present Cathedral of Santiago de Compostela is the finest construction which was rebuild from 1060 to 1211.Every day a lot of peoples or believers come here to just touch the pillars for the rest of their tired bones.
8) Alcazar, Seville,Spain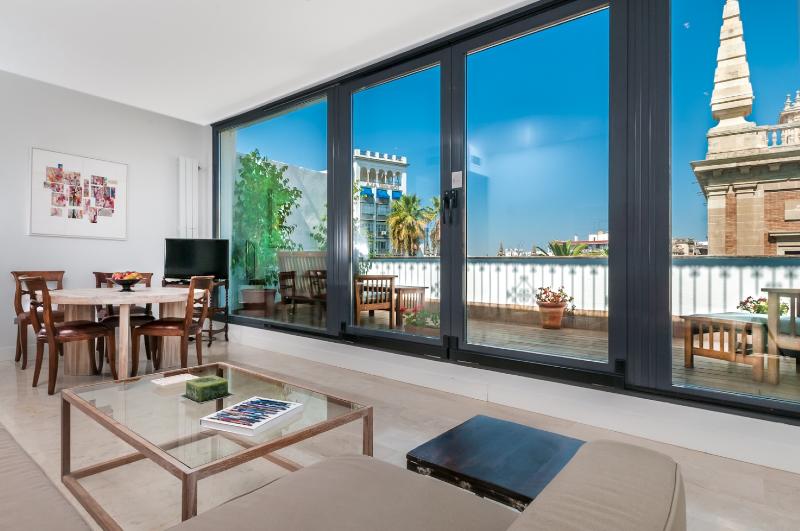 This photo of Alcazar Penthouse in Seville is courtesy of TripAdvisor
This palace is a symbol of architectural structure, a fusion of Morish and Spanish Christian architecture. Alcazar is a medieval Islamic palace. You may take 2 to 3 hours to visit this entire place. Rooms are here are well furnished and you should not miss it, if you are making a tour to Seville anytime. This is located a very near to Barrio de Santa Cruz, which is a really wonderful area with the winding streets.
7) The Alhambra, Granada,Spain

This photo of The Alhambra is courtesy of TripAdvisor
The Alhambra is one of the favorite tourist spot of Europe, situated at Granada in southern Spain. It is a great fortress and part of Palace. The popularity of this palace is increasing and day by day more visitors are coming to see this construction as a proof of this statement the tourist number has been increased to 2.26 million at 2012 from 2.18 million at 2011.
6) Mezquita de Cordoba,Spain

This photo of Hotel Mezquita is courtesy of TripAdvisor
This fantastic Islamic structure is one of great mosques of Muslims named Aljama located at Cordoba. This was built during the Moorish occupation period was going on. This is the most attractive Islamic monument of western universe. This is used for Muslim's prayer and also visited by the tourist because of its interior or exterior structure.
5) Pamplona-Running of the Bulls,Spain

Image Credits:telegraph
Pamplona is a famous tourist place in Europe. It mostly known for its amazing and interesting race named as Running of the Bull. Here tourists come to enjoy the interesting race. The race id help every year 6-14 July and begins everyday 8am of the following days. The participant there must be 18 years old and they have to run with the bull in the direction of the bulls run.
4) Cuenca,Spain

This photo of Cuenca is courtesy of TripAdvisor
Cuenca is an amazing little city whose modern part is located under the Jucar plain and the old part is enclosed by deep gorge from three sides and it is carved out by two rivers. This very little city is a declared world heritage site, that's why it has got the tourists attention and another reason is their appearance to be hanging and the Abstract Art museum too.
3) Aquaduct of Segovia,Spain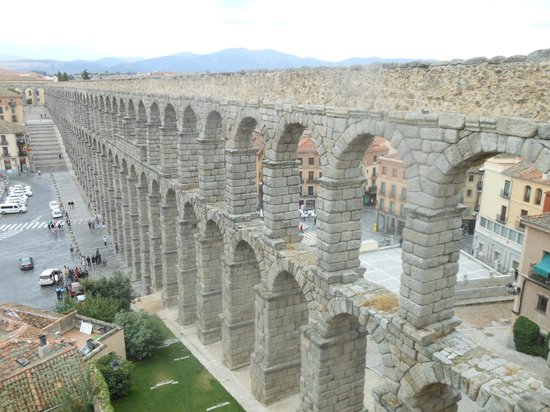 This photo of Segovia Aqueduct is courtesy of TripAdvisor
This is a spectacular monument of Spain. This was left by the Romans and is being preserved in the best so long till now. It covers 16 Km from Frio River to Segovia and carries water. This massive construction was stood up without any mortar with 24000massive blocks. It was probably build in 50 AD and still supplies water to the city.
2)Palacio Real,Spain

This photo of Palacio Real de La Magdalena is courtesy of TripAdvisor
Palacio Real de Madrid is the Royal palace of the Royal family but it is only an official residence to them. The royals don't have the permission to live in it. This huge palace is only used for ceremonies related to state. This palace is owned by Spanish State. A lot of people come every year to watch the royal palace because of its beauty and royalty.
1)La Sagrada Familia,Spain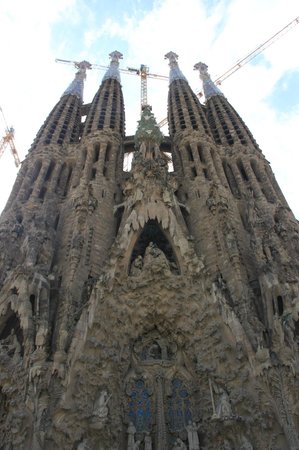 This photo of Basilica of the Sagrada Familia is courtesy of TripAdvisor
La Sargada Familia is the most visited place is Spain. It is located at Barcelona. It's a large Church of Roman Catholic. It was designed very authentically by Antonio Gaudi. He is a Catalan Architect and he worked on this project over 40 years till his death. He was died in 1926 and still this construction is not completed.
So here are very few of the heritage sites of Spain and there are boundless like these places waiting for you.
Feature Image Credits:gateway-health