Tourism in Malta is an important sector of the country's economy, contributing to about 15 per cent of the nation's Gross Domestic Product . It is overseen by the Malta Tourism Authority, which in turn falls under the responsibility of the Minister for Tourism, the Environment and Culture. Malta features a number of tourism attractions encompassing elements of the island's rich history and culture, as well as aquatic activities associated with the Mediterranean Sea. In addition, medical tourism has become popular in Malta in recent years, especially since government efforts to market the practice to medical tourists in the United Kingdom.
There are also a number of aquatic activities to enjoy on Malta as well as Gozo and Comino. Northern Malta is home to the country's beach resorts and holiday areas, with the beaches most popular with holiday-makers being Mellieha Bay, Ghajn Tuffieha and Golden Bay. These beaches are large enough to be able to house cafes, restaurants and kiosks, but small enough to be crowded rarely. Malta's northwest is home to the island's quietest beaches, and it is on these that the main island's neighbouring two are nearest. Gozo and Comino are also popular beach spots for holiday-makers, although these are much more likely to be quieter, rockier and more suitable for snorkelling. The Mediterranean Sea surrounding Malta is popular for diving - while shallow dips may be attractive to beginning divers, more experienced divers may be able to dive deeper to find historical artifacts from World War II or earlier.
Here are the list of Top 10 best tourist places in Malta, which you should visit :
10. Ramla Bay, Xaghra, Malta
It is one of the sandy beach in the Xaghra, there are no buildings and it is places of historic, beauty and geological interest for tourists. There are several places for lunch, dinner, BBQ nights. It is consisting red sandy beach and Gozo's only pure sandy beach, very famous among local and tourists as well .
9. Mdina, Malta

Mdina is one of the favourite local tourists destination, and also one of the prettiest ancient walled cities you will find out anywhere in this area. Rabat, which is the neighbour of Mdina also has a variety of cultural and historical buildings and several attractions for the tourists. White glass blowing is a very new trend in Malta, it is revered by the citizens and tourists alike. Whenever, you take a trip to the Madina glass factory and you will also b able to buy the fruits for the local glass makers.
8. Hypogeum, Mdina, Malta

The Hypogeum of Hal Saflieni is the only temple, which is known as prehistoric temple in the world and int he UNESCO World Heritage Site. There are wonderful experience for the tourists, head to the Oracle Room where a woman's voice won't eco but a man's will. There are many rocks, tombs, statues, painting and much more to keep the tourists entertained. Book yourself in advance, because only 85 people are allowed in each day.
7. Diving into blue deep, Mdina, Malta

Malta is one of the famous tourists place in all over the world, where you can go scuba diving so it offers a great opportunity for the visitors to learn more skills and see some incredible underwater wildlife during your tour. Diving in Malta is very fantastic experience and also will give you the unforgettable memories from your holidays .
6. Azure Window, Gozo, Malta

No-doubt the Azure Window is one of the Malta's beautiful highlight. It is spectacular, natural arch, which has been formed inside the rock due to the waves crashing against the cliffs. It is quite easy to get to by on a ferry over to Gozo and the Dweja Point which offers the awe-inspiring views.
You should make sure to see it, before it Disappears !
5. The National War Museum, Valletta, Malta

The museum is a must see place , especially for those visitors interested in Malta's history or military history. There are plenty of wonderful exhibits on display, in which  vehicles, weapons, uniforms, and other nice artifacts of soliders are preserved.They are all very well laid out and there is lots of interesting information to read about. Entrance fee is 6 Euro which is well worth it. Thoroughly enjoyed my visit and would highly recommend. It is Fantastic.
4. Malta5D, Valletta, Malta

If you want something to give yourself and the kids to make own tour memorable than, a quick and certainly not boring introduction to Malta and its history this is certainly what should be placed at the top of your list of things to do.
Shaking seats, stuff coming out of the screen at you, wind in our hair and a surprise or two which shouldn't be spoilt by a review such as this will make your visit one to remember.
You can also buy the 'Malta Pass' here but beware at this time of the year it is worth pre-booking as we found that they didn't have any pass.
3. Fort Rinella, Kalkara, Malta

Fort Rinella brings history to life, about the soldiers who take part in the enactments help you realize what life was like at this time. Here visitors know about the history of this fort easily. Something to interest every age of group, with knowledgeable people to talk about the Fort and the work involved in preserving this part of history.
They also allow several hours for the visit. Tourists came here by service bus.
2. Strait Street, Valletta, Malta

The Strait Street is not the single  attraction in Valletta, there are many other attractions like that, and they all are really magnificent,  the other Pedestrian streets like the Republic street and Merchants Street where tourists can enjoy the sloping streets.
Besides visiting the St John's Cathedral, the museums and the Grandmaster's Palace also, walking in these streets is really fun and enjoyable,  they are full of tourists, beautiful old buildings with their Arabic windows, shops selling all sorts of handicrafts starting with souvenirs and ending with stylish clothing, and the many restaurants and coffee shops where you can relax and enjoy a good espresso and the delicious sweets with your family, friends, and with your spous.
1. Festa Season, Xaghra, Malta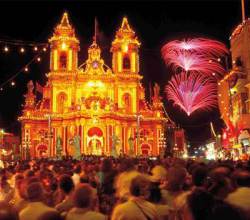 It is renowned as one of the top tourists places in the world. Whenever, you stay in Gozo, you have to go to a  fantastic fiesta. If you do not, after that  you will strongly regret it.Here you can also enjoy the horse racing.There are some wonderful fireworks, the colours are magnificent like red, green, yellow, orange, purple, and several others. I strongly recommend that you go to a fiesta if you ever go to Gozo. There are also a few fast food stalls that sell chicken, chips, burgers and all of the rest. Pest Fiesta for your tour.