Singapore is among the most visited tourist country in the continent Asia because of it's art and culture. Government is making it's effort to make Singapore the center of art and culture. They have adapt their living mostly from China which is the reason 49% of the population of Singapore speak Chinese. Singapore has a tropical rain forest climate through out the year which attract the tourist around the world to visit best tourist places in Singapore.
10. Armenian Church, Centra District
The oldest Christians church was completed in 1835 as it is known as a masterpiece which is not only visited by the residential but also the tourists all around the world.it was the second church built in Singapore.
9. Peranakan Museum, Armenian street
This museum gives the clear picture of peranakans culture in Singapore with 10 galleries which perform shows throughout the year.traditions always attracts people towards their cultural programmers. 112,000 people annual visit the museum.
8. Singapore Botanic Gardens, Bukit
With the wide variety of plants this botanical garden has also a 3 hectare national orchid garden,,rain forest, evolution garden,ginger garden, children garden, lakes and orchestra performances. Green carpeted lawns are attractive picnic spots for people.
7. Tiger Sky Tower, Sentosa
An observatory tower located in the center of the Santos island with the height of 110m with 36 floors is a great interest for the people as they can view the whole island in a cabin like air conditioned dsc fitted with the glass all around.72 person can enjoy the view at a time.
6. Escape Theme Park, Pasir Ris

it is a family park opened in may 2000 offers both thrill rides including pirate ships, kart tracks, fairground style rides, a haunted house and family rides like bumper boats, coasters, Ferris wheel and other games.a wild wild wet water park is also located adjacent to the escape theme park which gives the visitors to sojourn 2 places at a time.
5. Jurong Bird Park, Jurong

The best tourist place in Singapore is a landscaped park found on the western slope of jurong hill named jurong bird park is a way of attraction for the millions of visitors yearly.it has a variety of magnificent 380 species of birds.it also exhibits worlds tallest man made waterfall aviary, dinosaur descendants, lory loft (the worlds largest walk-in-flight avary), penguin coast, world of darkness and also provide many other comforts to the visitors.annually 900,000 people are attracted towards this fascinating bird park.
4. Singapore Flyer, Raffles Avenue

Singapore flyer is a huge observation wheel with height of 165m and 150m in diameter is the worlds tallest wheel situated on the south-east tip of marina centre reclaimed land.it has 28 air conditioned capsules and a single cabin with accommodating 28 passengers and one rotation of a wheel is about of 30 minutes.this wheel also gives the glances of Indonesia and Malaysia.
3. Night Safari Park
A vast land of 40 hectares was given to the worlds most famous nocturnal park named "night safari park" which is the best tourist place in Singaporean shows are also performed by the animals 3 times a night in which animals show their abilities they have and make the way of attraction for the people to visit .you can walk around on trails and can watch animals freely moving without any cages.it has a large number of animals having almost 120 species and about 1.2 million people visit it every year.
2. Singapore Zoo
Singapore zoo was opened on 27 June 1973 which covers an area of 28 hectares having about 315 species of animals like orangutans, wild African, tiger trek, cat country, elephants, primate kingdom, baboons, dears, reptile gardens, splash zone and many other animals.it has various rides for the comfort of visitors the trams, boats, horse carriage rides, wagons. it is a best tourist place in Singapore which attracts 1.6 million visitors every year.
1. Sentosa Island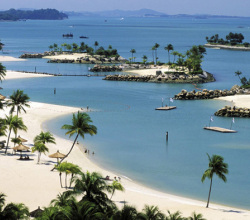 sentosa is a famous island resort in Singapore is commonly known as world of resorts.it is a beautiful island offering a variety of attractions like tiger sky tower which is a free standing observation tower,butterfly park with over 50 species of live butterflies, underwater world a museum which has 250 species of marine and fresh water animals, sentosa 4D magix is singapore's ever first theatre and many other places to visit.it also has 8 hotels like movenpick heritage, crockfords tower, festive, Aquarius, Michael, hard rock and many resorts like amara santuary, capella, costa sands, shangri-Las rasa, siloso.