Bahrain is a tourist destination and one of the most visited countries in Middle East. It's kingdom combines modern Arab culture and historical places which reflects five thousand years of Bahrain civilization. It's climate is mostly hot and dry in summer season with low level wind directed toward Bahrain through the Zagros Mountains across the Persian Gulf. There is no regularity for rainy season, mostly rainfall occur in winter season. Bird watching, scuba diving and horse riding are popular tourist activities in Best Tourist Places in Bahrain.
10. Bahrain World Trade Center, Manama
It is the most dramatic and inspiring trade center, which rises to an elevation of 787 ft above ground. It is a twin tower trade center connected with each other by sky bridges having 50 stories. There are 3 wind turbines located within 2 of the sky scrapers, which provides lighting for over 300 houses. Bahrain World Trade Center won 2 prestigious awards for the best architectural design.
9. Bab Al Bahrain, Manama
Bab-Al-Bahrain is one of the most beautiful market in a Manama having number of stalls lined selling veggies and fruits, clothes, crafts, and is one of the best historically selling gold and pearls. an arched gate is for the entrance of the market with a beautiful fountain at the front of the gate. whole area gives a picture of true beauty and place for soothing. many luxury hotels are also nearer to the market.
8. Al Khamis Mosque, Tashan
In 7th century was found one of the most captivating historical mosques in Bahrain known as Al-Khamis. It is a beautiful mosque, which has 2 minarets standing at the corners of the front corners an has limestone slabs and the material used in the construction are wood and stone. Length of the mosque is 113m. The prayer room is constructed very beautifully with a flat roof supported by wooden pillars. It is located in a place called Khamis which is a residential area with a large number of shops.
7. Qal'at Al-Bahrain
On Arabian peninsula an archaeological site with height if 39ft is found in Bahrain, it is 6km away from Manama city. it is a place with a huge amount of antiques. it is the capital of Dilmun. It is a seven stratified layered fort, which is spread over 10,000 sq ft.it has a mounded structure and about 12m high is a fort which gives name to this historic area. the structure shows a small settlement in the past were small houses are made of binding material. this whole area gives a beautiful look to the eye.
6. Tree of Life
2 kms away from Jebel al deckhand is a 500 year old major tree standing alone on the 25 foot high sand hills. this particular tree is located in the midst of the desert without any source of water has made this tree a legend. it is the 7th wonder of nature. the tree is annually visited by 50,000 people.
5. Al Areen Wildlife Park, Sakhir
40 minutes away from Manama Center is Al Areen wildlife park a best tourist spot activity in Bahrain. this lush green park has a huge number of flora ad fauna, including more than 500 species of animals and 10,000 plants. it has 2 parts, one of which is open for people and the other one is the reserve area. this park is annually attracted by a great number of visitors.
4. Jebel Al Dukhan
Jebel Al Dukhan also named mountain of smoke is the highest elevated hill in Bahrain. this mountain is a high point of the country with 143 m height. many caves of imprecise types are in the environs of the mountain. the southern part of the mountain is the best place for overnight camping.
3. Bahrain International Circuit, Sakhir
The Bahrain international circuit was established in march 17,2004 and is actually a Motorsport local. many events were held in the circuit like drag racing, grand Prix, v8 super cars, desert 400 and such many other kinds of events. it has a grand Prix track, inner track, outer track, paddock circuit, drag strip, oval track and other. This place is visited by a large number of tourists.
2. Bahrain National Museum, Manama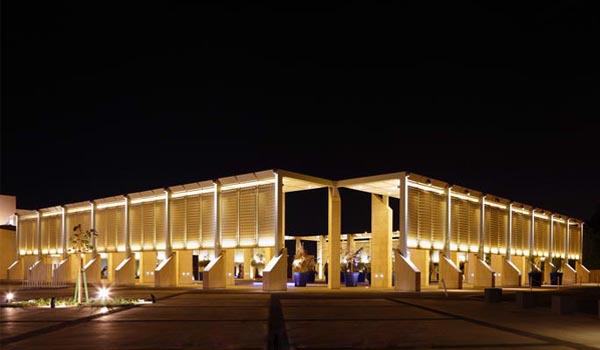 One of the most alluring buildings in Bahrain opened in 1988 with a sensational patio overlooking the sea front is the first museum in Bahrain covering 6000 year history. It is a one of the melodramatic place to visit in Bahrain. it has a large collection of archaeological stuff. halls, galleries, shops and a cafeteria are also located there.
1. Al Fateh Grand Mosque, Manama
Al Fateh is the mosque in Bahrain which is capable of reconciling audience of 7000 and is one of the largest mosques. this mosque was built in 1988.it was built with marble, glass and teak wood. the most attractive thing is the dome of the mosque which is made up of fiber glass and gives a fascinating view at night and the largest dome.