Best Tourist Places in Norway are the best tourist attraction. Thousands of Tourist visit Norway every year because of it's natural beauty and many historic heritage spots. This is the best place where you can spend your summer holidays with joy and memorable events.
10. Oslo City Hall, Oslo
Oslo city hall is the architectural style building located in the capital of Norway named Oslo. This building was architecture by Arnstein Arneberg and Magnus Poulsson. The building is embellished inside and outside with artwork as inside is decorated with murals, unique furniture and accessories. The City Hall which is the seat of government for Oslo is an important hall for ceremonial events such as the Noble Peace Prize Awards Ceremony.
9. Christiansholm Fortress
In 1672 a Fortress was built on an islet about 100 yards from shore to defend the city of Kristiansand was when founded in 1641 from pirates and rambunctious Swedes. The fortress was built by King Frederik III of Denmark and Norway in late seventeenth century and is open to visitors during the summer season and guided tours are available. Now it is used for cultural events, exhibitions, concerts and is a site usualy used for recreation.
8. Lindesnes Lighthouse, Lindesnes
It is the oldest lighthouse station in Norway, which was for the first time constructed in the year of 1655. With the passage of time many changes are gone through the lighthouse as in 1822 it was refitted by the coal lamp, current cast iron tower was set up in 1915 and in 1950's the light house station was electrified and the fog signal was changed into a powerful diaphone. A film theater and concert hall, exhibition space, café and toilets are also available in the public area inside the hill and every month number of events are held there including concerts to cultural programs. The exotic scenery and the ever changing weather will ensure that every time you visit the lighthouse will be different.
7. Kristiansand zoo and Amusement park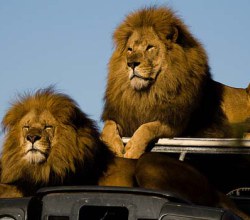 The zoo which has five separate parks including an entertainment park, water park, a theme park, a forest park and a zoo is located 11 kilometers east of Kristiansand covering an area of 150 acres is Norway's most intermittently visited attraction site. This zoo contains coliseum for Scandinavian animals like wolves, lynxes, tigers, zebras, mooses, cheetahs and orangutans. This is a place where one can find comfort, calm place, good food, entertainment and it is a paradise on earth for both old and young.
6. Tusenfryd, Vinterbro
Norway's largest amusement park is located 20 kilometers south of Oslo at Vinterbro. It has a number of adventures to explore when enter in by one of the most inventive entrances by uphill walking as it is located on a forested hilly area. This park has a large number of attractions including roller coasters, water rides, kiddie rides, water park, swimming river, a volleyball court, restaurants and also hotel accommodations .It has 500,000 visitors per year and is a great place of attraction for tourism industry.
5. Frogner park, Oslo
In the central parts of the city Oslo, a famous public park named Frogner park is located which is given this name due to the presence of Frogner Manor house which is located south of the park and also houses the Oslo City Museum. This park has the largest collection of roses almost 14,000 plants of different species. Middle of the park is occupied by the one of the most attractive site known as Vigeland Sculpture Park. The Frogner stadium and a central pond can also be visited and a summer day would be obviously enjoyed by doing lots of entertaining stuff like playing games, picnics or can have sunbaths. This park is annually visited by up to 2 million people and is a great tourist attraction.
4. Bo Sommarland, Telemark
Bo Sommarland park in the city Telemark is the Europe's biggest water park opened on 27 June 1985 which is visited by 200,000 people every summer and makes the park one of the Norway's enormous tourist attractions.The park has 20 different pools, slides and has also dry areas like play ground, climbing mountain, Tarzan track, fairy tale houses, jumping castles, mini golf, stage shows and the world's largest artificial surf wave in Sommarland river which is released after every hour. The park is visited from the starting of June and continues till middle of August.
3. Prekestolen, Stavanger
Prekestolen is a 604 meters high cliff above Lysefjordan in Forsand, Norway the most attractive site for the visitors as it was visited by 200,000 people around 2012 every year. It is a 25 meters broad granite cliff formed during the ice age approximately 10,000 years ago. The cliff is surrounded by green valleys and mountains that rise to an average height of 843 meters. This place is best visited during sunny weather. Prekestolen Mountain Lodge located at the beginning of hike has standard hotels.
2. Lofoten Islands
Lofoten islands are one of the most stunning places for the tourists to visit. The Lofoten archipelago is poised of seven principal islands. It has traditional red huts used for accommodation and has access to the nearby cafes and restaurants. It is a best spot for hiking and can also visit a fishing village called Henningsvar on thirty minutes drive. As lying near the Great Arctic Circle Lofoten experiences a high altitude with mild winters. Lofoten is blessed with a high density of sea eagles, cormorants and millions of other sea birds. Mountain climbing, surfing and cycling are the famous sports of this area. Lofoten is served by a number of small airports which can directly take u to the Lofoten islands.
1. The Geirangerfjord
Geirangerfjord is known as the treasure of Norwegian Fjords with the characteristics of heighten waterfalls and reckless mountain farms is listed in UNESCO'S World Heritage sites. The two most amazing waterfalls are Seven Sisters and The Friar falling across the fjords facing one another. It has a top cruise port from which more than 100 cruise ships visit Geiranger during summer while during winters it cannot be visited because the roads are closed due to heavy snowfall. Each year thousands of tourists visit this area.